Get your software reviewed by us
Here is your chance to get your software or web application exposed to thousands of interested readers. ReviewOfWeb is a high-quality premium review site with an authority of more than 100 in various categories on Technorati.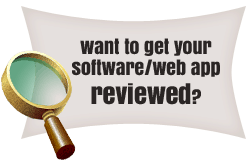 Just make sure you satisfy the following conditions:
Please go through our website to check the kind of software/plugins we review. Your product should be a desktop software/web application. At present we only review Windows-based products. No Macs please. Check the reviews of Software To-Do List, Wondershare Quiz Creator, WordPress Plugin PDF Stamper to get a feel of our style.
You agree to provide us the lifetime license of the highest valued product in your portfolio. The review copy should be free of any watermarks etc. For example if your product comes in three versions – Free, Lite and Pro, you will provide us the Pro lifetime license.
In case we choose to review your product, we will email you within 72 hrs of hearing from you.
The review would be unbiased and neutral. We don't do paid reviews. No exceptions.
In case we don't choose to review your product, it would mean that your product does not match the kind of reviews we do here. This does not reflect on the quality of your product in any way.
To submit an app, go to our contact form. Select "An app for review" and let us know the details about your product.
All the best!