In our quest to review some of the best SEO software, today we are going to review a market leader in spinning software niche – Spinner Chief. Spinning software are software that can take your article and can make auto-variations of it so that articles would look unique to search engines. You may find this creepy but believe me even the biggest SEO agencies out there would do this job when aiming for high positions in Search Engines. As with any other SEO software try not to over-do. Your aim should be to take help from such software to create unique high quality articles fast and effortlessly.
Spinner Chief download is around 13 MB in size and is available as a zip file. Once  downloaded, make sure to extract the contents in a new folder. Hit SpinnerChief.exe and you're good to go. Yes, unlike other windows application there is no install routine for SpinnerChief, it is available as a portable application that works out-of-the-box by hitting the exe file.
The first window will prompt you to run the software in free mode or paid mode. (In either case you would need to register with SpinnerChief, as they will approve your email id for further usage of the software)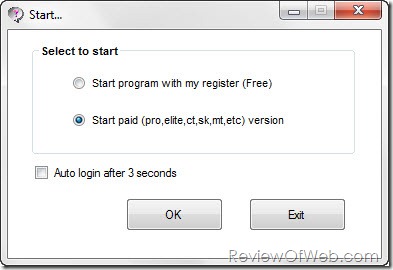 As soon as you hit OK button, you will get a prompt asking you to Load a project, Create a new project OR Launch program directly. The first two options are available for pro versions. Since we already have our email approved, we will create a new project.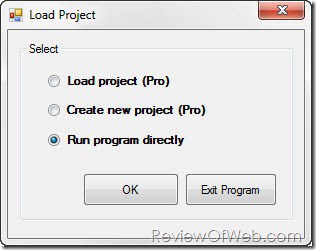 For our review purpose we will spin a review article on WPSubscribers that we have published on our blog earlier. All new projects are saved in 'project' folder by default. This project folder can be found inside 'spinnerchief' folder. All project files are saved with .prj extension.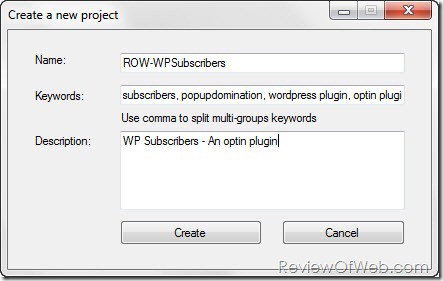 You can then choose one of the thesaurus files. Cloud Thesaurus and Miracle Thesaurus are available with Pro/Elite versions. (They can be purchased as a standalone add-in). We'll go ahead and load the default thesaurus file. (I would strongly advise to get Cloud Thesaurus since this is a user built thesaurus which is ever increasing in size. You may find better synonyms here compared to the default thesaurus file.)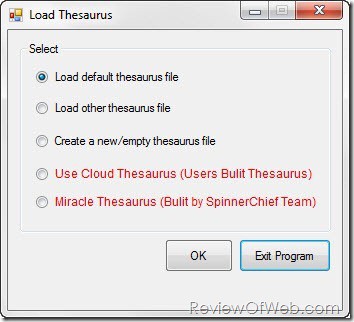 On the next window – by default – you will see the introduction tab. Click on the 'Software' tab. This is the heart of SpinnerChief where you will find all SpinnerChief features. On the first glance the interface looks a bit crowded to me. The project that we have just created can be seen in the top left side box. Right click on the project name and you will be able to create a new article or import article(s). We 'll import an article from the text file.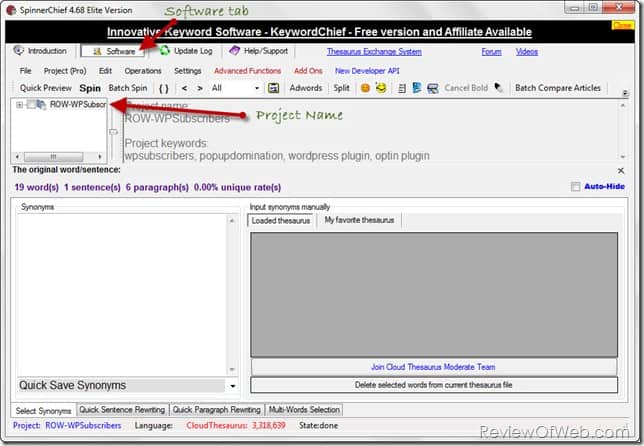 As with any other new software, it may take some time to learn the features present here. It would help if Spinner Chief developers can put a simple hover-help-text over various labels present in menus so that users can immediately understand the usage.
There are various –basic and advanced- ways using which you can spin an article using Spinner Chief. If you're quality conscious you may want to spin word by word. In that case you need to highlight (or double click) a particular word in the top pane and Spinner Chief will show you the related synonyms in the bottom pane. Just click on the relevant words and they will be added in the top pane with spin syntax as shown in the screenshot below.
Keep on pressing Ctrl-Alt and Spinner Chief will move you to the next word in your article where you can repeat the same actions.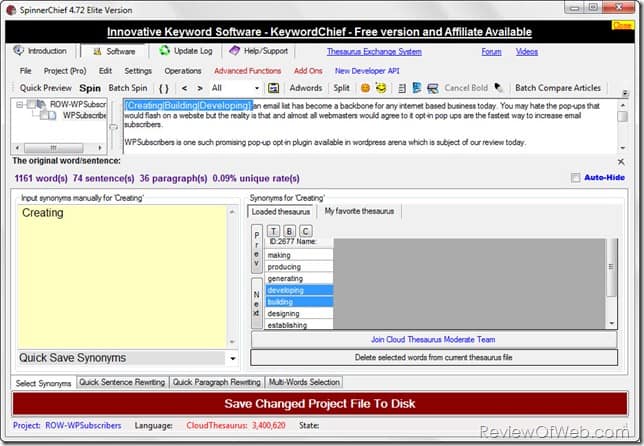 Note that when synonyms are added the original words would appear as green while added synonyms appear red in colour.

To get the spun articles, you need to click on Spin button at the top. You will get a window with various settings. Enter the number of articles you want to get and unselect "Select Synonyms for other word automatically". Hit the Spin button at the bottom and Spinner Chief will render 10 articles with synonyms you have identified above. This method will produce the best quality articles but may be time consuming if you have to spin a large number of articles.
[Under Pro settings below there is a setting called 'Integrate CH features'. CH is a short for 'Content Hurricane'. This is another software by Spinner Chief team which promises to create any article unique with a single click. It actually converts characters/words in your articles to special characters so that though the article will look unique to a search engine but it would appear the same in the eyes of reader. You may use this technique while submitting articles to blog networks. Such articles won't work with article directories though.]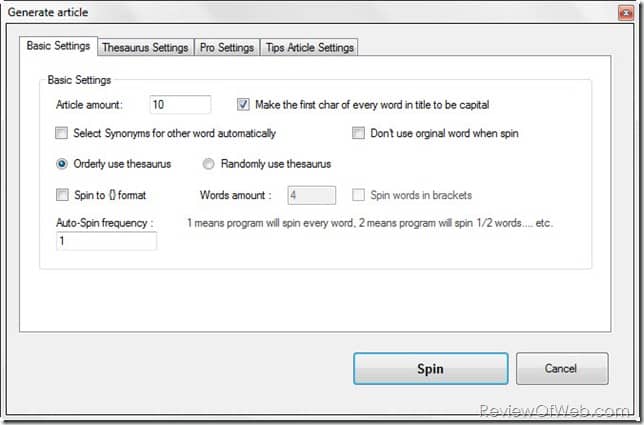 Spinner Chief provides another method whereby it can identify all words that have potential to be replaced by a synonym and then auto-spin those articles – all within a few clicks. However If you use the default settings of Spinner Chief, your article may not be of high quality.
We will try to modify some settings so that we can get high quality articles quickly. A navigation that you will find yourself using quite often is Operations > Identify Synonyms. As soon as you click this option, Spinner Chief will identify all words and phrases that have a potential to be replaced by a synonym. All such words and phrases will appear as blue underlined text.

We will click on Spin menu option on the top and will again get the window we have already seen in the first method. This time change Auto-Spin frequency to 4 (default is 1). Auto-Spin frequency of 1 will replace every single word of the article while Auto-Spin frequency of 4 will replace every 4th word of an article with a synonym.
Replacing every word will make your article unique but in all probability it will be a garbage. An auto spin frequency of 4 will ensure that your article will be unique in the eyes of search engines (and copyscape) yet retain complete sense. [Tip: To pass Copyscape you should always have every 4th word different since Copyscape searches for similarity in groups of 3 words. ]
All rendered articles will pop-up in another window. There is a cool Check by Copyscape (encircled below) functionality integrated within Spinner Chief whereby if you have a pro account with Copyscape you can check the uniqueness of your rendered articles right within Spinner Chief's interface. SC is also coming up with its own duplicate copy checker.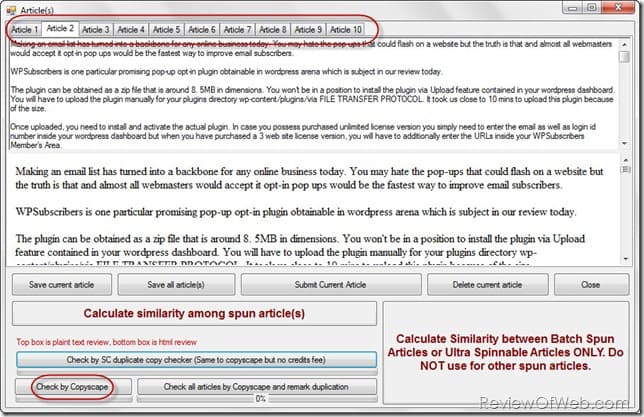 There is another great feature that can be seen on this window. Calculate similarity among spun article(s). This feature provides the uniqueness percentage among the articles you have spun. It is advisable to have not more than 50% similarity between the articles you spin.
Often you will have some words that you may want to protect (or don't wish to spin). To do so, just select the word, go to Operations and hit 'Protect selected text'. [Here I would prefer if we have a separate file where we can maintain our protected words across projects]
There are some Advanced Functions available for Pro/Elite versions where you can scrape articles from various article directories,  spin content protecting HTML tags, count keyword density and submit articles to article directories from right within Spinner Chief's interface.
Spinner Chief provides various add-ons which are available as a separate purchase. With Elite version you get a Suggest Keyword(SK) and Tips add-on integrated within it. SK add-on looks at the top 10 Google search results for your keywords, compares these keywords to each other, and then tells you the keywords that ALL the top 10 pages use in their content.  Tips add-on will help you produce unique Tips article quickly. (Example of a tips article – "5 innovative ways to use Google search")
Final Words
Spinner Chief looks like a winner in its niche. Henceforth spinning articles will no more be about garbage content. You can now spin already produced articles yet maintain high quality. With Spinner Chief team being active on its development this software is a must have if you're a webmaster or an SEO agency.
The software is available in 5 versions. Standard, Professional, Cloud Thesaurus, Professional + Cloud Thesaurus and Elite version. While standard version is free, elite version will cost $197 one time fee and the rest versions are in between these two price points. Check the differences between these versions on the Order Page.