It may sound simple but the direct URL to this site is neither available anywhere on the internet (or on reliancenetconnect site) and nor the Reliance World people know about it. Fortunately today I got a chance to speak with a very knowledgeable customer care executive, who provided this link:
Simple go to Reliance Net Connect E Care Balance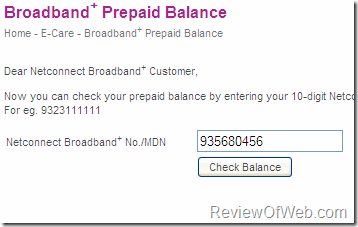 Enter your BroadBand No/MDN No in the edit box and hit 'Check Balance'. You can now see the available balance in your reliance net connect prepaid account.

What is the difference between Reliance netconnect core balance and account balance?
When your account balance gets exhausted, reliance netconnect will start consuming your core balance. Core balance should ALWAYS remain positive otherwise you will not be able to use your reliance data card even if you have sufficient account balance. Also note that, you can recharge your account balance online through sites like paytm.com but you can't recharge your core balance online. You need to visit Reliance shop in your neighbourhood to get core balance recharged.